Among the outdoor adventure activities in Malaysia, camping is one of the popular ones. 
There are many beautiful camping spots in Malaysia. While camping is a popular outdoor activity in Malaysia, there are other ways to enjoy the great outdoors that don't involve pitching a tent or "roughing it" in the woods. Here comes glamping.
In this article, we are going to differentiate between camping and camping.
Camping
When most people think about camping, they come up with images of tents pitched along the side of a dirt trail, in the lush forests, by the river, at the base of waterfall, or at the beach. Basically, you can camp at whatever spots you can imagine.
The definition of camping according to the Cambridge Dictionary:
the activity of staying in a tent on holiday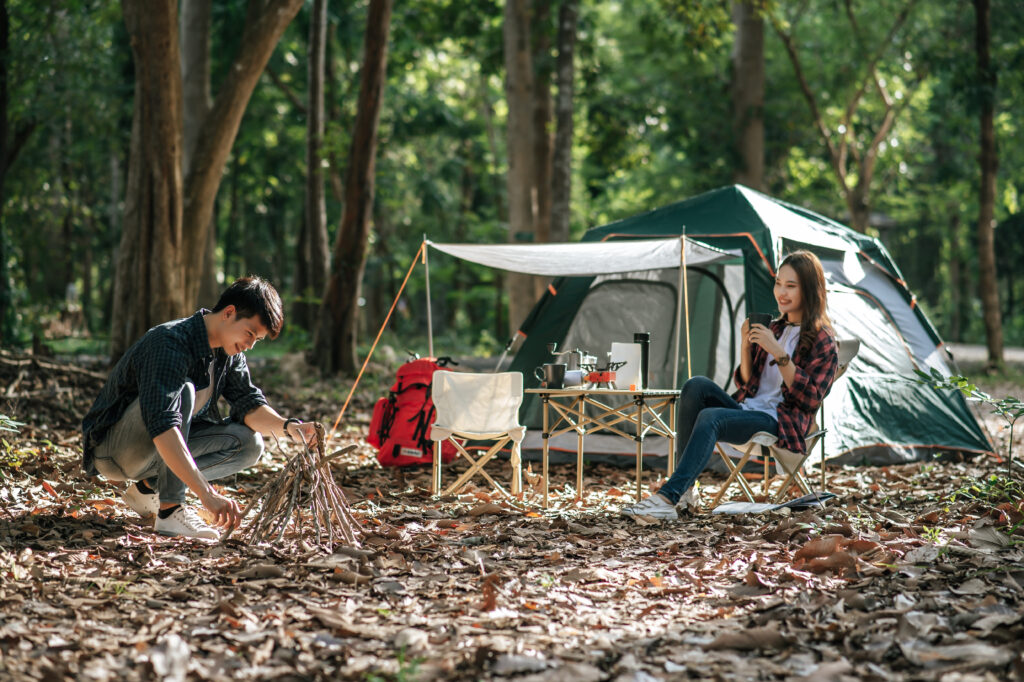 For a basic camping trip, all the camping equipment that you really need is camping tents, some sleeping bags, some blankets, maybe a stove, and some food. That's pretty much it. Once you're at the camping spot, you set up your tent, cook your own meal, enjoy the moment and environment with your companions, and go to sleep, all in a serenity environment.
Nowadays, there are many private campsites that provide basic amenities such as bathroom facilities, power plug points, BBQ facilities, etc. These private campsites usually require booking in advance to secure a spot.
Glamping
Glamping, or glamorous camping, is a newer term that refers to enjoying the outdoors in style. It has become a choice for many people who wants to experience camping for the first time. It offers the same fun experience of camping but in a more luxurious environment.
The definition of glamping according to the Cambridge Dictionary:
a type of camping that is more comfortable and luxurious than traditional camping. The word is a mixture of 'glamorous' and 'camping'.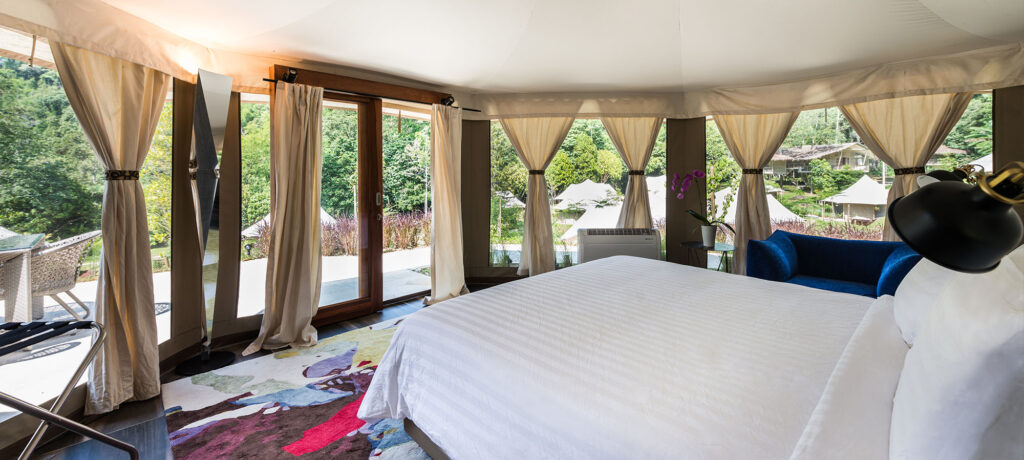 Instead of camping out in a self-pitched tent, glampers may stay in luxurious accommodations such as cabins, ranches, or pre-pitched camping tents. Many times these accommodations are within the vicinity of a hotel or resort.
These glamping accommodations may have all the amenities of home, including kitchens and bathrooms, or even an air conditioner.
Glampers usually don't need to prepare their own meals, instead, food is prepared and served to them as a package by the glamping location.
To put it short, glamping can be defined as combining hotel or resort comfort with a camping experience. That said, glamping 
Conclusion
Both camping and glamping can be enjoyed by anyone regardless of age, level of experience, or budget. They can be enjoyed by people who want to escape city life for a couple of hours or people who want to spend weeks at a time exploring an unfamiliar area.
Camping and Glamping Spots in Malaysia
There are many amazing camping sites in every state of Malaysia. Some popular camping spots are Hulu Langat and Kuala Kubu Bharu at Selangor, Port Dickson beach at Negeri Sembilan, the beautiful beaches along the East Coast of Malaysia as well as those located in East Malaysia (Sabah and Sarawak), and even in the National Parks.
There are both public and private camping sites in Malaysia. Some campsites might require you to get a camping permit (e.g. Sungai Pauh Campsite at Cameron Highland, Pahang).
As glamping is starting to become more popular, many hotels and resorts have set up glamping sites within their property.
To find a suitable camping or glamping location of your choice, you can use the search form in our platform to filter down your choices. You can even filter the variety of activities provided by the campsite. 
Browse Camping Site in Malaysia by States